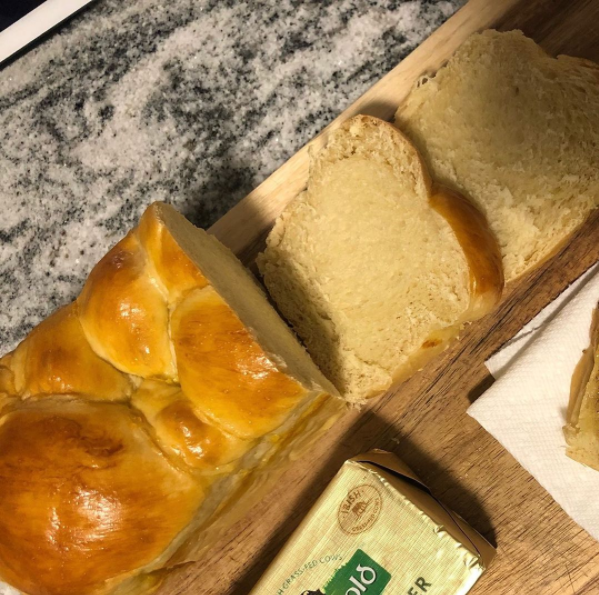 For our March Social Event, Humble Crew had a Zoom Happy Hour and got to learn more about the Challah Back Girls from the girls themselves!  Challah Back Girls is an organization founded and ran by four sisters who make and sell challah bread to fundraise for, support, and uplift organizations that lead racial equity work.  We were joined by three of the four sisters on Zoom to learn more about their organization and the organizations they support through their donations.
The sisters got started by baking challah (a traditionally braided bread) for frontline healthcare heroes at the peak of the COVID-19 outbreak back in May of 2020.  As their challah became more and more popular, simultaneously a nationwide awakening to the racial injustices that have been ravaging the country for centuries occurred.  It was at that time that the sisters realized that the challah they were baking could help make a difference by supporting various organizations.
They decided to begin selling their challah and donate all monies earned towards a nonprofit of their choosing.  The purpose of their work transformed into sharing their Jewish heritage through challah, thus providing an educational opportunity for healing and transforming social and racial injustice.  Each loaf of challah is traditionally woven from three braids of dough—the incorporation of these different threads into one traditional loaf is a poignant metaphor for the work they are doing to support their community across every identity, race, and religion. 
Humble Crew donated to the Challah Back Girls to help them buy supplies and we also each got our very own loaf of challah bread.  Some chose plain, others selected chocolate chip or coffee cake, and some of us even got to try the "everything but the bagel" challah!  This was the first time many of us tried challah and it was a perfectly delicious introduction to the Jewish tradition.
In March, the sisters chose to donate their profits to the Black Women's Health Imperative.  This is the first nonprofit organization created by Black women to help protect and advance the health and wellness of Black women and girls.  
We recognize that racial inequality is a critical issue that must be addressed in America, so it was very rewarding to donate and support Eliana, Hannah, Sara, and Marni in the important work they are doing.  We were honored to have them to share more about their baking, the organizations they donate to, and their goals in the future. 
To learn more about the Challah Back Girls and to purchase challah bread, head over to https://challahbackgirls.org/home.  To learn more about the Black Women's Health Imperative, check out https://bwhi.org/.