Holiday Gifts for Children or Grandchildren Under $70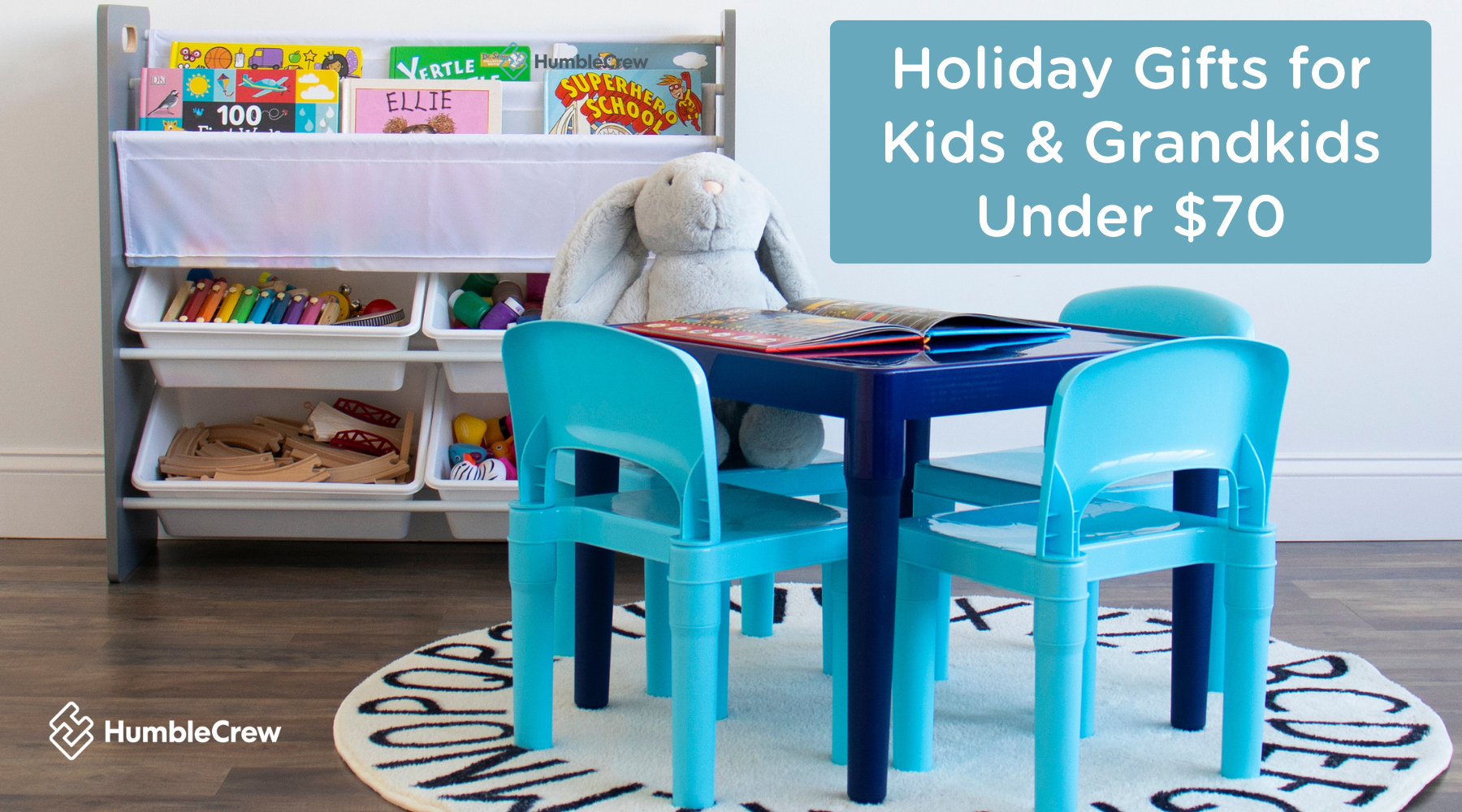 Take your little one's play space to the next level with these 10 playroom essentials for under $70.
Toy storage organizers with removable bins make playtime fun and clean-up afterwards easy.  Bookracks display book and magazine covers facing forward for easy identification.  These tiered storage units also teach kids color identification, sorting and cognitive skills at the same time. 
Space-saving designs and versatile colorways mean these organizers will fit even in small-space living and blend in effortlessly with existing furniture and décor.
An organized and effortlessly chic playroom is truly the gift that keeps on giving, for parents and kids alike.  Check out these 10 holiday gifts for toddlers and kids for under $70 to make this holiday extra special for the whole family:
1. Kids Lightweight Plastic Table and 2 Chairs Set
The adorable aqua, yellow, and green colorway of this plastic table set will liven up any room and gives children a place to draw, eat, and play.
Get it at Walmart.com for $40.00
2. Kids Jordan Lightweight Plastic Table & 4 Chairs Set
Lightweight plastic table and 4 chairs makes space for kids and all their friends to enjoy playtime together!
Get it at Amazon for $69.82 - also available in purple!
3. Kids 2-in-1 Plastic Building Blocks-Compatible Activity Table and 2 Chairs Set
This table set with 2 chairs includes a flat table cover to give children a space to draw, make slime, and more when they aren't playing with plastic building blocks.
Get it at Amazon for $57.68
4. Kids Summit Toy Storage Organizer with 12 Storage Bins
The sleek white frame of this 12-bin organizer complements the fun primary-colored bins for playtime perfection. Snag the matching bookrack below to complete your playroom for under $100.
Get it at Amazon for $62.07
5. Kids Summit Book Rack Storage Bookshelf, 4 Tiers
Store books facing forward for easy identification and retrieval.
Get it at Amazon for $32.60
6. Fabric 5 Bins Toy and Closet Organizer Storage Unit
The stylish ladder-style frame and understated colorway is a chic way to keep toys organized. It's also the perfect size to use as a closet organizer for linens, clothing, and undergarments.
Get it at Walmart.com for $60.21
7. Kids Cambridge Toy Storage Organizer with Shelf and 9 Storage Bins
Organize toys of all sizes in the plastic toy storage bins and use the top ledge to display books, pictures, décor, or other toys.
Get it at Walmart.com for $59.99
8. Kids Sumatra Toy Storage Organizer with 9 Storage Bins
Perfect for small-space living; organize toys and books in the playroom or use it in the bathroom or laundry room to store toiletries and supplies.
Get it at Target.com for $69.99
9. Kids Discover Supersized Toy Storage Organizer with 16 Storage Bins
4 large and 12 small plastic toy storage bins provide 25% more storage space than other toy organizers.
On sale now at Walmart.com for $64.50 ($73.20 MSRP)
10. Kids Natural Wood Rolling Toy Box with Wheels
Make playtime fun and clean up a breeze with this large rolling toy box with two handles.
Get it at Walmart.com for $59.99 MSRP - on sale now for $53.31!
11. Kids Inspire Read n' Play 6 Bin Toy Organizer and 2 Tier Bookrack
This generously sized toy storage organizer with built-in bookshelf is a great alternative to traditional toy storage boxes or bookcases.
Get it at Amazon for $58.06
*All pricing listed here is updated as of 9/27/2022. Prices subject to change.